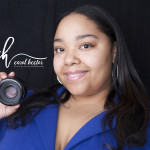 Welcome to my website!! I am FLATTERED that you chose to stop by! I started Carol Hector Photography at the beginning of 2014 shortly after I married my high school sweetheart of 14 years (insert cheesy smile here). After our wedding, needless to say, I had a lot of time on my hands and I decided to pursue something that has been a genuine personal passion since I was a little girl.
I have vivid memories of my father taking snapshots of literally everything; he would take 2 or 3 shots of every pose to the point that our cheeks would start to hurt from smiling. I can recall inspecting his cameras and tripods and being fascinated with the photos that developed from a quick snapshot with his camera. I remember walking to our neighborhood Arbor Drugs to pick up the photos from the previous week's family "photo session". I was so obsessed with the printed photos that I would hold them hostage. That's when my father started getting duplicate prints; he realized I needed my own collection, great idea Dad!! In late 2013 I purchased my first "professional" camera and I haven't looked back since then.
To describe myself, I am a mother to our 5 year old furbaby Paige, wife, sister, aunt, daughter…the list goes on and on. I am silly and not afraid to laugh at myself. I'm a reality TV junkie, Calligrapher, Realtor, Notary Public and a Foodie. I'll stop here so it won't sound like I'm bragging!
Along with my camera, I bring my love and passion of photography to every session. I strive to capture every intimate detail about you and your story. I'm sure you have heard that cheesy cliché', "A picture is worth a thousand words", well MY goal is to also create a thousand memories to go along with each image. The smells, the sun shining on your skin, the perfect photograph that makes time stand still. That is my wish and goal with each and every session.
XoXo – Carol ♥