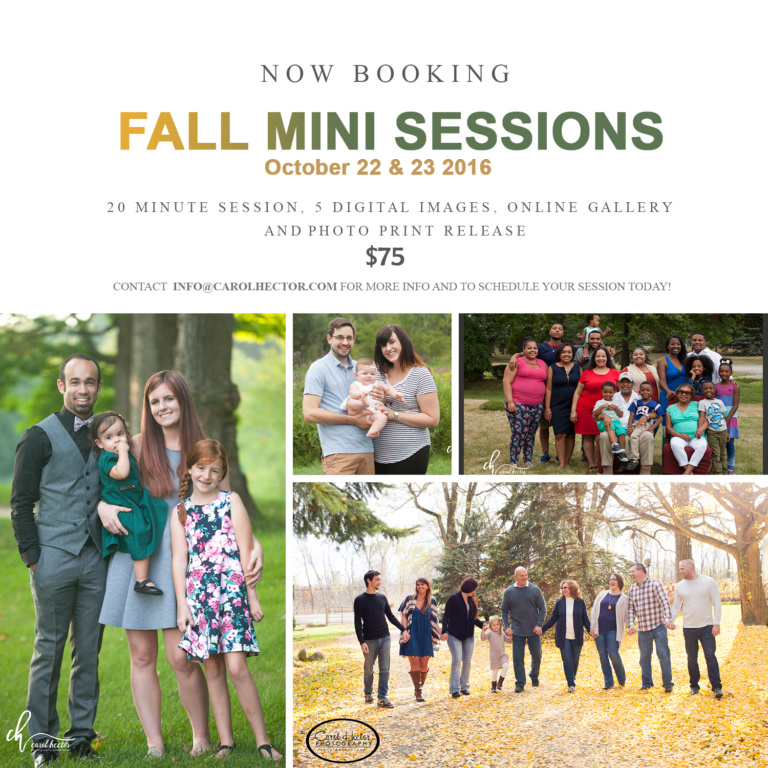 This years' Fall Mini Sessions will take place at the beautiful Heritage Park in Farmington Hills.  Appointments will be 20 minutes; because time is limited, pretty please arrive on time.  🙂
To secure your appointment, please click on the calendar below and select your preferred time.   A small deposit* of $15 will be required at the time of booking; the remainder of the balance will be due at the time of your session.  I will accept Cash or Credit/Debit cards only (no checks please).    Please make sure to select either 10/22 or 10/23 for the Fall Mini Sessions only.
After the session (within a day or two), you will receive a link to a gallery of all images taken at the session.  The images will be unedited.  You will have the ability to choose your 5 favorite images from the session.  Additional images/poses are available for purchase at $17/each.   I will edit the photos and return them to you via email and will also include a print release form.  Editing generally takes about 2 weeks.
**Deposits are non-refundable unless cancellation notification is received more than 24 hours before scheduled appointment or cancelled by Carol personally.
As always, please let me know if you have any questions!  I love to chat!
xoxo – Carol